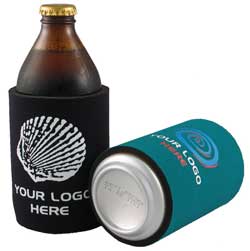 Promotional Gear
Stand out from the crowd by using our promotional products to advertise your business.
We have a wide variety of functional goods for your business or sporting club or even for that special event. We can supply towels, bags, coffee mugs, pens, hats, caps and the essential Aussie icon – the stubby cooler. Below is a small range of goods we can supply.
Stubby Coolers – full range of colours, with or without bottoms. 5 mm wetsuiting, glued and stitched seams. Great Promotional Product!
Stationery – Pens, Rulers -we pad print a whole range of pens to suit your business needs.
Mugs & Keyrings – mug and keyrings are also very popular promotional items.
Bags – we can supply and embroider many different varieties of bags, knapsacks and travel satchels. Very popular with sporting and hobby clubs come in and see us to view the whole range!
Hats, Caps, Beenies & Bandanas – by far the most popular and functional of all our promotional products are our hats. Pictured are just two of our many hundreds of styles of caps, bucket hats and beanies we can supply. A fantastic way to promote your business or sporting club, these headwear products can last for years – time spent promoting your business to thousands.